Prayer Ministry Personal Prayer Prayer Forum
Uniting Our Hearts In Prayer is an organization of Prayer Leaders and Intercessors with Keat and Judy Wade as co-directors. All persons with a heart for prayer are welcome to join us in regular meetings and special undertakings for San Diego County. Visit our Website
WHO WE ARE - UOHIP Mission Statement: Uniting Our Hearts In Prayer San Diego is a Christian interdenominational, multi-ethnic, organization uniting intercessors. Its purpose is to provide cohesive prayer coverage for the county, link intercessors through cultural expressions of prayer, utilize combined resources and giftings, encourage broader cooperation among intercessors, and facilitate rapid mobilization of the Army of God to strengthen the Body of Christ.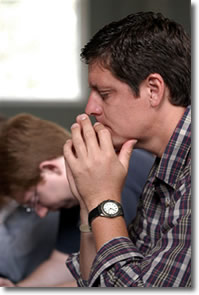 PURPOSE: To glorify God through obedience in prayer and to the work He calls us to do. Meet monthly for praise and worship and to seek God His direction for the intercessors and the Body of Christ in San Diego County.
Meeting time: The 4th Thursday of each month, 7:00 PM, January through October.
Meeting place: The Salvation Army Ray and Joan Kroc Corps Community Center Corps Education Center, Multipurpose Room 6605 University Avenue (Building A) San Diego, CA 92115
Maintain a Pastor's Prayer Shield - Each pastor who has requested prayer coverage is being prayed for by intercessors. It began with 170 pastors and now numbers over 300.
Uniting Our Hearts In Prayer
Keat and Judy Wade, co-directors
PO Box 2462
Spring Valley, CA 91977-2462

Judy Garlow Wade lives in San Diego, CA and, along with her husband Keat, serves as Co-Director of Uniting Our Hearts in Prayer (UOHIP) and of the San Diego County Pastor's Prayer Shield. UOHIP hold monthly prayer meetings to pray for the San Diego County region. Both she and Keat are involved as San Diego County coordinatiors to Pray/California, a statewide prayer network. They serve on Pray/Cal's Listening Team. Judy is also an intercessory prayer leader at Skyline Wesleyan Church and with Keat serve as intercessory prayer leaders for Marriage Savers@Skyline.
Judy Garlow Wade is the author of Take the Name of Jesus With You: A Practical Guide for Reaching Your Community through Prayer. This book was born out of a desire to develop a practical self-teaching tool for the prayerwalkers and supplemental reading for the seasoned prayer walkers. It is designed to help the reader to become more knowledgeable while gaining skill in prayerwalking, thereby becoming
better equipped to impact their community for God. Judy's desire is to provide understanding of how God uses prayerwalking to effect a community.
Collaborating with her husband, Keat, together the Wades have co-authored articles in PRAY Magazine, May-June 2000 ("San Diego Unites in Prayer") and The Wesleyan Advocate, 2000 ("Reconciliation: An Event and a Process"). Judy was also featured in the September-October, 2004 issue of PRAY Magazine's Empowered section.


Keat Wade is Co-Director of Uniting Our Hearts in Prayer along with his wife Judy. Keat is a gifted writer and intercessory prayer leader.
As a writer, he has published an album of poems, Grains of Sand. It includes the written poems as well as an audio CD with the poems read by Keat over an inspirational and original soundtrack. This album is to inspire and refresh and bring healing to the listener/reader.
Two of Keat's poems appear in Take the Name of Jesus With You, "His Voice" and "Majesty on the Mountain". Another of his poems appears in Worship Warrior by Chuck Pierce, "The Light of His Countenance".
Keat spent 36 years as a teacher, middle school through college. He spent 22 of those years at Oklahoma Weseleyan University, Bartlesville, OK. in 1999, he spent two years as a community human interest columnist for an East County newspaper. He also served as feature writer and sports editor of a post newspaper during his military service.